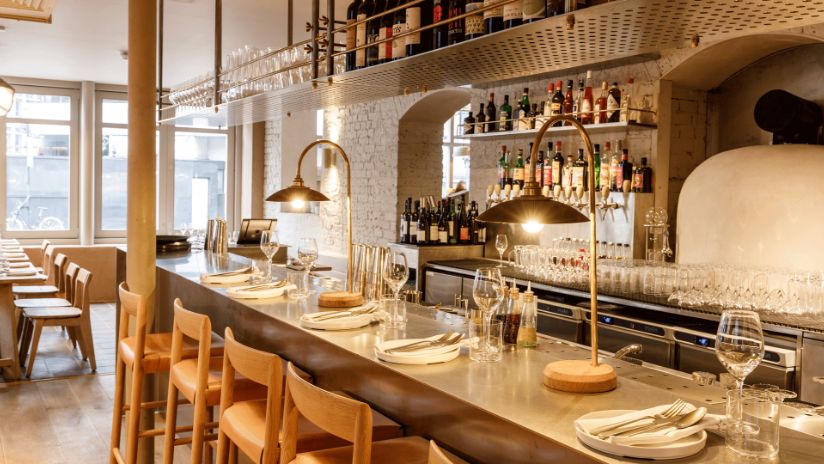 Chris Leach and David Carter have made a triumphant move to Shoreditch
What is it?
A modern Italian restaurant that takes its name from the Spanish word for pork fat or lard. Manteca has had a colourful existence thus far having started out as a four-month pop up at Mayfair-based restaurant incubator site 10 Heddon Street in 2019 before taking on a short-term lease on nearby Great Marlborough Street in Soho. It has now found a permanent home in a former Pizza Express on Shoeditch's Curtain Road.
Who's behind it?
Duo executive chef Chris Leach, whose CV includes Pitt Cue and Petersham Nurseries, and David Carter, founder of Shoreditch BBQ restaurant Smokestak.
What's on the menu?
Manteca takes a nose-to-tail approach using whole animal carcasses and does its own in-house butchery and salumi production. Leach has also opted to work directly with farmers and suppliers across the UK, including Creedy Carver in Devon, Llanthony Valley in south-east Wales and Duchess Farms in Hertfordshire. There's a lot more to Manteca's menu than just meat, although it does feature heavily, with Leach's skill at making pasta and flatbreads also on show. Fans of the original restaurant will recognise its key big-hitting dishes, not least the excellent focaccia; 'nduja steamed mussels with cream, parsley; and brown crab cacio e pepe but other standout dishes include pig head fritti with a spicy dip; fazzoletti with duck ragu and duck fat pangrattato; clam flatbread; and a large fist-sized portion of crispy pig skin for dipping in an accompanying ragu – although the restaurant is currently struggling to source enough pig skin to meet demand for the dish. Portions are large enough to share but can be eaten by the individual, although the larger grill dishes at the end of the menu – such as Saddleback pork chop with king cabbage and house miso; and a whole wood-roasted plaice – will be tough to tackle alone after what's come before it. Carter and Leach say they stared with a menu similar to what they have previously cooked at Manteca Soho but as time goes on will look to broaden their horizons in terms of dishes.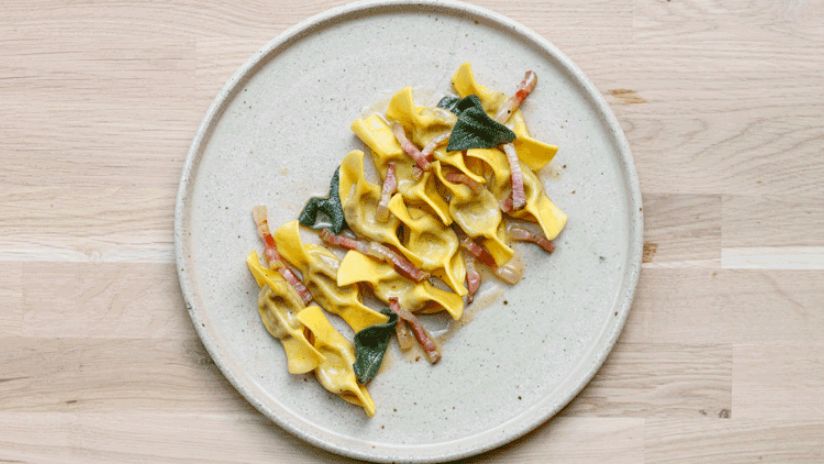 What can I drink?
Wines are divided between 'a classic choice' and the more leftfield 'down the rabbit hole' options with an unusually large selection of sparkling wines for a restaurant such as this. There's much to interest the curious oenophile with sparklers from Greece, Wales and Germany as well as France and Italy and a good selection of whites, reds, and oranges with a leaning towards the various wine regions of Italy. The tight cocktail list features around 10 creations but the impressive list of amaros that is presented with the dessert is more than double this.
Tell me about the vibe
Omicron may be ruining January for some restaurants but the buzz surrounding the new Manteca, aided by some very favourable reviews, means that the restaurant is full and turning tables. Furniture ranges from wooden table tops to those covered in white marble with the restaurant also having a metal-topped counter at which guests can sit and watch Leach and his team in action. The pair have kept things simple in terms of design, with Box 9 architects using bare plastered walls, light woods and buttery yellow tones reminiscent of its pasta dishes to create a light space by day but one that feels quite moody and atmospheric by night when the lights are dimmed.
49-51 Curtain Road, London, EC2A 3PT
www.mantecarestaurant.co.uk